PICTURED BELOW ARE SOME OF OUR BLUE PROGRAM STUDENTS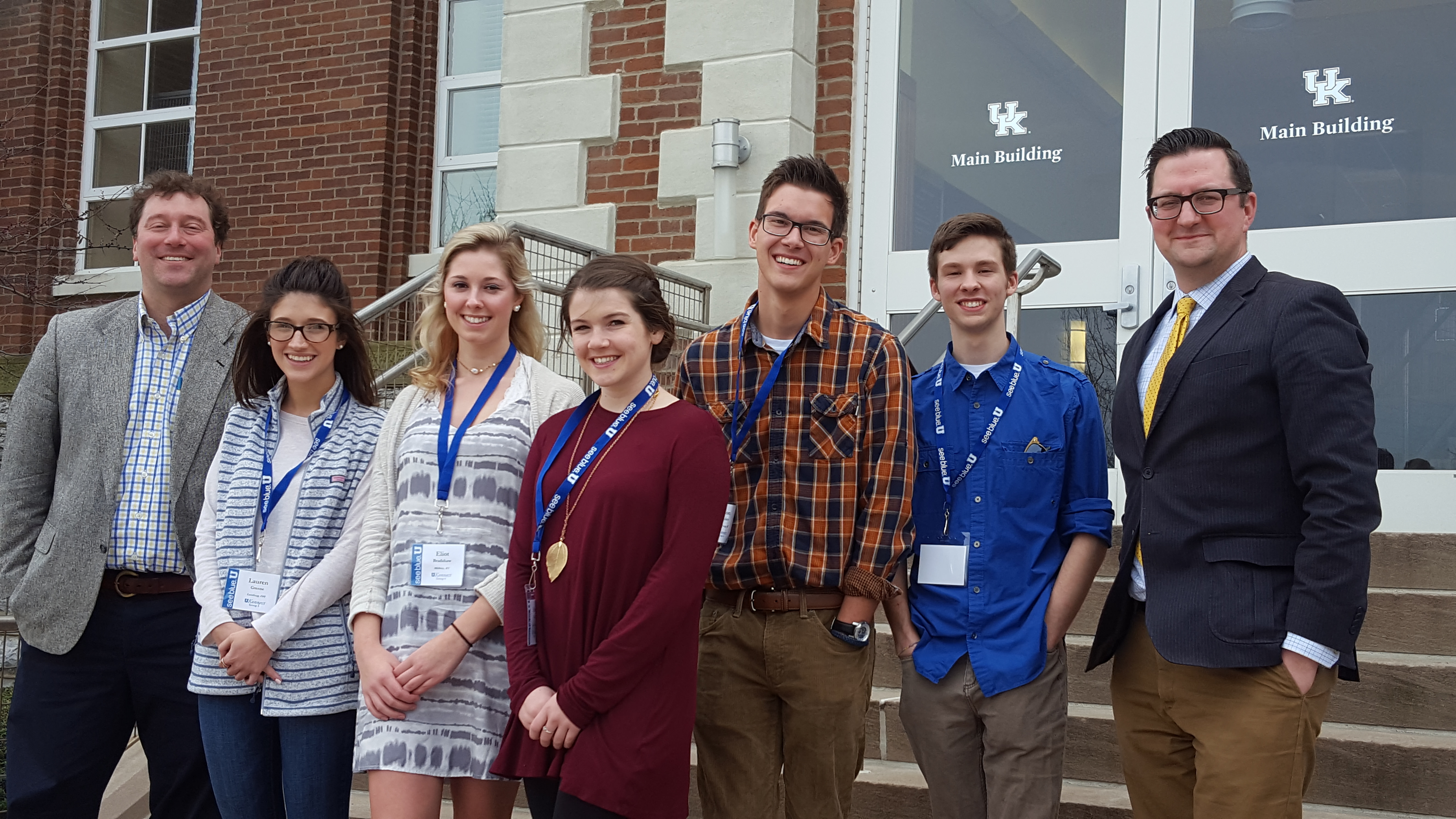 Pictured above, left to right:
Zachary Bray (H. Wendell Cherry Associate Professor of Law); Lauren Green (BA-PS, BLUE option); Eli Bradshaw (BA-PS, BLUE option); Maya Pierce (BA-ENG, BLUE option); Mason Dressler (BA-ENG, BLUE option); Micah Holcomb (BA-ENG, BLUE option); and Franklin Runge (Faculty Services Librarian)
Students selected for admission for the entering class of UK BLUE attend Merit Weekend to priority register for their fall classes. Previous students have enjoyed "Lunch with the Law School" during their Merit weekend and had an opportunity to meet representatives from UK Law and learn more about the UK BLUE events they sponsor and host.
EXPLORE. ENGAGE. EXPERIENCE.
The UK Bachelor to Law Undergraduate Education (UK BLUE) program is a 3+3 degree partnership between the College of Arts & Sciences and UK Law for incoming freshmen majoring in English, History, or Political Science.
Students selected for this accelerated-degree program complete their B.A. and J.D. in six years in an intellectual community of students who share a commitment to academic excellence and a passion for serving others. Admitted students benefit from a rigorous, challenging and rewarding academic career, all while participating in enrichment activities that acquaint them with the legal, clinical, community service, and career opportunities that a law degree makes possible.
UK BLUE students explore, engage, and experience the law in ways unparalleled for undergraduates at the University of Kentucky.